INTERNATIONAL SYMPOSIUM ON MATHEMATICAL MORPHOLOGY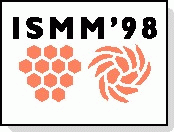 and its Applications to Image and Signal Processing IV
June 3-5, 1998, Amsterdam, The Netherlands
Contents
This symposium is the fourth in a series of international workshops devoted to the area of mathematical morphology and its applications in image and signal processing. The scientific programme includes presentation of invited talks and contributed papers. The size of the workshop will be limited in order to enable interaction between the participants.
Early registration (before April 1): NLG 700,-
Late registration (after April 1): NLG 850,-
Cancellation fee (before May 15): NLG 250,-
Fill out the registration form and return it to the ISMM'98 secretariat.
October 17, 1997: Submission of full paper
December 15, 1997: Notification of acceptance
February 15, 1998: Camera-ready full paper
B. Kimia, Brown University, USA: Curve Evolution, Wave Propogation, and Mathematical Morphology
I. Molchanov, University of Glasgow, Scotland: Grey-scale Images and Random Sets
J.-M. Morel, Universite Paris IX - Dauphine, France: Image Iterative Filtering and Partial Differential Equations ...
S. M. Pizer, University of North Carolina, USA: 2D & 3D Figural Models of Anatomic Objects from Medical Images
J.S. Ploem, The Netherlands: The creation of computer graphics with mathematical morphology
Here you find a postscript file and a gzipped version of the final programme, as well as a postscript file containing a letter (May 14, 1998) to all participants.
Henk J.A.M. Heijmans
CWI, Kruislaan 413, NL 1098 SJ Amsterdam, The Netherlands, The Netherlands
email: henkh@cwi.nl, tel: +31 20 5924057 , fax: +31 20 5924199
Jos B.T.M. Roerdink
Department of Computing Science, University of Groningen,
P.O. Box 800, 9700 AV Groningen, The Netherlands
email: roe@cs.rug.nl, tel: +31 50 3633931 , fax: +31 50 3633800
G.J.F. Banon , Brazil
R. van den Boomgaard, The Netherlands
E.R. Dougherty, .USA
J. Goutsias, USA
M. Kunt, Switzerland
P. Maragos, Greece
S. Marshall, UK
F. Meyer, France
C. Ronse, France
Ph. Salembier, Spain
R.W.Schafer, USA
M. Schmitt, France
J. Serra, France
L. Vincent, USA
K. Wojciechowski, Poland

LOCAL ARRANGEMENTS:
L.M. v.d Eersten-Schultze
F.A.M. Snijders
The symposium will take place at the Royal Tropical Institute, one of the leading research institutes in the Netherlands on agricultural development and tropical health. The Tropical Museum, once a typical anthropological museum, has been transformed into a modern Third World Museum, explaining development topics and paying attention to everyday's life in Third World countries. The museum's permanent exhibition includes fine Indonesian arts.
The venue of ISMM'98 will be Amsterdam, the capital of the Netherlands. Amsterdam is not merely one of Europe's most beautiful historic cities, but also one of the most livable and lively. Holland is situated in a mild maritime climate.The weather in June (like during the rest of the year) is rather unpredicatable, but usually mild with temperatures between 15 and 20 C .
Amsterdam can easily be reached by airplane and by train. There is an excellent train connection between Schiphol airport and Amsterdam.
See also The Internet Guide to Amsterdam or make a virtual tour through Amsterdam.
Selected hotels for ISMM'98. See also the Amsterdam Hotel Guide. The conference site is between Oosterpark and Artis Zoo.
CWI
University of Groningen
COOPERATING ORGANISATIONS
Accepted papers will appear in the proceedings volume published by Kluwer in their Computational Imaging and Vision series. This volume will be available at the beginning of the workshop. The final paper has to be be prepared using the LaTeX typesetting system using the style file provided by the organisers, and should be limited to 8 pages including artwork and references. Final papers have to be sent before February 15. Please read the submission instructions.
A postscript file showing the format of the paper.
The organisers plan to make available a very limited number of subsidiary grants for participants from countries in Eastern Europe and former Soviet Union. These grants will cover traveling expenses (cheapest option), full registration and hotel expenses. The main criterion for achieving a grant is that the applicant is the (first) author of an accepted paper. Selection will be on the base of paper quality. Applications for these grants have to be submitted to the ISMM'98 secretariat.
For further information please contact the ISMM'98 secretariat:
Mrs. L.M. v.d. Eersten-Schultze
CWI
Kruislaan 413
NL 1098 SJ Amsterdam
The Netherlands

tel: +31 20 592 4189
fax: +31 20 592 4199
email: lieke@cwi.nl
---